Source (Google.com.pk)
Animal Planet Puppy Bowl Biography
The Puppy Bowl is an annual television program on Animal Planet that mimics an American football bowl game similar to the Super Bowl, using puppies.Shown each year on Super Bowl Sunday, the show consists of footage of a batch of puppies at play inside a model stadium, with commentary on their actions. The first Puppy Bowl was shown on February 6, 2005. The puppies featured in the Puppy Bowl are from shelters, and the show contains information on how viewers can adopt rescued puppies and help their local shelter. According to the show's producers, the inspiration for Puppy Bowl as Super Bowl counterprogramming came from the popular Yule Log Christmas program.A veterinarian is on site during the production of Puppy Bowl to ensure animal safety and well-being, and to administer any veterinary medical care which might be needed. Representatives from American Society for the Prevention of Cruelty to Animals, as well as the shelters which lend their animals to the production, are also on site as observers to ensure animal welfare standards are maintained.According to its associate producer, the production takes about 12 hours each day.In 2007, shooting occurred over three days. In 2010, the veterinarian on site said this was spread over three days.Puppies are given a rest period every 30 minutes, due to the heat from the lights. Forty-six puppies were used in 2008, and about 60 puppies in 2010. The 2011 production occurred in the New York City area in the fall of 2010, using 47 puppies, while the 2012 show will feature 58 puppies.Puppy Bowl is filmed inside a miniature "stadium" that is 19 feet (5.8 m) long by 10 feet (3.0 m) wide. The show focuses on young puppies, and there is a height and weight limit due to the size limitations of the play area. The various cameras used to tape the show generate about 50 hours of footage. Roughly 30 staff members are needed to produce the show.The first five Puppy Bowls were narrated by Harry Kalas, a narrator for NFL Films and longtime play-by-play voice of the Philadelphia Phillies. After Kalas's death, Jeff Bordner provided the commentary for the 2010 and 2011 games. American sportscaster Scott Graham provided the commentary.Puppy Bowl VI was dedicated to Harry Kalas, who died on April 13, 2009.
Animal Planet Puppy Bowl
Animal Planet Puppy Bowl
Animal Planet Puppy Bowl
Animal Planet Puppy Bowl
Animal Planet Puppy Bowl
Animal Planet Puppy Bowl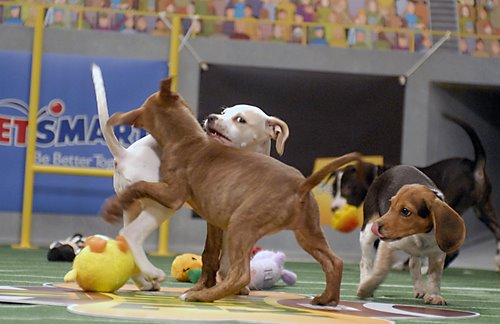 Animal Planet Puppy Bowl
Animal Planet Puppy Bowl
Animal Planet Puppy Bowl
Animal Planet Puppy Bowl
Animal Planet Puppy Bowl
Animal Planet Puppy Bowl
Animal Planet Puppy Bowl